Review GPA: ZONE ONE by Colson Whitehead
In Review GPA, we translate reviews of notable new books into letter grades and determine a grade point average. Check out last week's installment on The Marriage Plot by Jeffrey Eugenides.
__________________________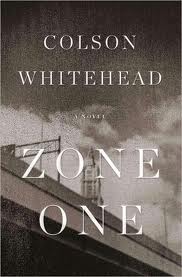 From the Esquire review by Tom Chiarella:
Gold Star:
Zone One marks the arrival of Whitehead's real narrative engine. He's telling a story — tumble down, mired in the wreckage of the world we currently pretend to cherish. It's a book you want to read rather than one you should read.
Demerit: None
Grade: A
__________________________
From the Guardian review by Patrick Ness
Gold Star:
"A fragile hope permeates these pages, one so painful and tender, it's heartbreaking. There have been sharper zombie tales – the bitter satirical punch of George A Romero's original Night of the Living Dead film is unimprovable – but I can't recall one this sad and moving."
Demerit:
"Whitehead does have a tendency to overwrite – sentences sometimes grow so rhythmical, you fail to take in their actual meaning as the words wash over you…"
Grade: A-
__________________________
From the Entertainment Weekly review by Rob Brunner
Gold Star:
Zone One is not the work of a serious novelist slumming it with some genre-novel cash-in, but rather a lovely piece of writing that happens to be about hordes of homicidal undead.
Demerit:
None
Grade: A-

(publication assigned)
__________________________
From The Wall Street Journal review by James Kennedy:
Gold Star:
"But if you're going to break down and read a zombie novel, make it this one. Among the hundreds of hamburgers, "Zone One" stands out as the steak. Or better yet, 'a good, fully developed veal.'"
Demerit:
"…if Mr. Whitehead scents the opportunity to digress on sitcom-inspired hairstyles or the rituals of the human-resources department, he's not shy about hitting pause on a life-or-death hand-to-hand combat scene. Repeatedly."
Grade: B+
__________________________
From the Amazon review by Justin Cronin:
Gold Star:
"For a long time Whitehead has strutted his stuff as one of our smartest young writers, and Zone One is every inch the book he was born to write, a pop-culture thriller of the first order. It will make you think."
Demerit:
None
Grade: A
__________________________
Review GPA: 3.74 (A-)