Review GPA: THE INTERESTINGS by Meg Wolitzer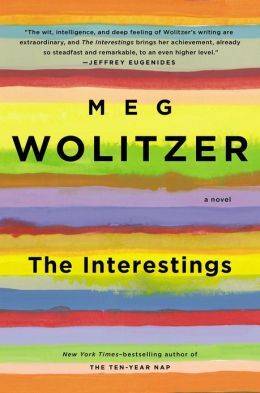 Publication Date: April 9, 2013
Genre: Literary Fiction
Publisher: Riverhead Hardcover
Publisher's Synopsis: The summer that Nixon resigns, six teenagers at a summer camp for the arts become inseparable. Decades later the bond remains powerful, but so much else has changed. In The Interestings, Wolitzer follows these characters from the height of youth through middle age, as their talents, fortunes, and degrees of satisfaction diverge.
The kind of creativity that is rewarded at age fifteen is not always enough to propel someone through life at age thirty; not everyone can sustain, in adulthood, what seemed so special in adolescence. Jules Jacobson, an aspiring comic actress, eventually resigns herself to a more practical occupation and lifestyle. Her friend Jonah, a gifted musician, stops playing the guitar and becomes an engineer. But Ethan and Ash, Jules's now-married best friends, become shockingly successful—true to their initial artistic dreams, with the wealth and access that allow those dreams to keep expanding. The friendships endure and even prosper, but also underscore the differences in their fates, in what their talents have become and the shapes their lives have taken.
_________________________
Jennifer Reese for NPR Books
Gold Star: "The book is juicy, perceptive and vividly written."
Demerit: "But 40 years in the lives of six characters is a lot of ground to cover, and Wolitzer sometimes skims the surface."
Grade: B
_________________________
Janet Maslin for The New York Times
Gold Star: "Might every privileged schoolchild have a bright future in dance or theater or glass blowing? Ms. Wolitzer hasn't got the answers, but she does have her characters mannerisms and attitudes down cold."
Demerit: " Surely she knows that self-dramatizing, narcissistic teenagers aren't necessarily interesting, let alone Interesting with a capital I."
Grade: B-
_________________________
Bob Minzesheimer for USA Today
Gold Star: "It's a sprawling, ambitious and often wistful novel that traces what happens to those six characters over nearly four decades."
Demerit: "Midway through, however, her plot begins to fade."
Grade: B+
_________________________
Gold Star: "Ambitious and involving, capturing the zeitgeist of the liberal intelligentsia of the era."
Demerit: None
Grade: A+
_________________________
Ann Levin From ABC News
Gold Star: "…a sprawling, marvelously inventive novel…"
Demerit: None
Grade: A+
Review GPA: B+ (3.4)
_________________________
<em><a href="http://bookriot.us2.list-manage.com/subscribe?u=76c5f8a6b8508fb200aec719a&amp;id=ffcca77bbb">Sign up for our newsletter</a> to have the best of Book Riot delivered straight to your inbox every two weeks. No spam. We promise.</em>
<em>To keep up with Book Riot on a daily basis, <a href="https://twitter.com/BookRiot" target="_blank">follow us on Twitter</a> or like us <a href="https://www.facebook.com/BookRiot" target="_blank">on Facebook</a>. So much bookish goodness–all day, every day.</em>
Enter to win
$250 to spend at Barnes and Noble!