Inbox/Outbox: April 21, 2013
Inbox (Books Acquired)
Don't Worry, It Gets Worse by Alida Nugent (Plume, May 7) – In another episode of blogger-turned-author, the writer behind The Frenemy blog has penned a quarter-life crisis memoir self-described as "a love note to boozin', bitchin' ladies everywhere." A quick flip through the pages reveals at least three different fonts, liberal use of bold and italics, and an over-abundance of caps lock, which can only mean one thing—this is going to be an emotional rollercoaster. Nevertheless, it's a tempting read, even if my quarter-life crisis involved a lot less exclamatory punctuation.
Outbox (Books Finished)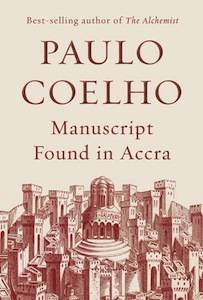 Manuscript Found in Accra by Paulo Coelho – This slim volume is a philosophical manifesto framed by the Siege of Jerusalem in 1099 AD. On the eve of battle, citizens of the holy city gathered to question a wise old man known as The Copt on topics ranging from death to sex and everything in between. The subsequent ecumenical bloviating is essentially a mash up of wise sayings from notable religious and philosophical texts. There's a lot of good stuff here, but nothing too original. It's a book that will probably spark a lot of déjà vu, but not much inspiration.
The Land of Decoration by Grace McCleen – At the center of this tale is Judith McPherson, a ten-year-old girl being raised by her emotionally distant hyper-religious father. Through a bizarre set of circumstances, Judith comes to believe that she can perform miracles and audibly hear the voice of God—or at least a petulant and surprisingly un-God-like version of God. This of course leads to all sorts of problems and Judith's inner world grows increasingly dark as the novel progresses. This is primarily a story about a complex parent/child relationship and the consequences of unchecked religious fanaticism. It's a strange, disturbing, but intellectually satisfying book.
In the Queue
Sense and Sensibility by Jane Austen – I have an embarrassing confession to make: I have never read anything by Jane Austen. There are a number of completely unjustified reasons I've passed her over until now, but no more! I'm about a hundred pages into her first published novel and wondering why on earth I waited so long. She's kind of brilliant (duh) and I am totally girl crushing on this dead author.
Into the Free by Julie Cantrell – Every once in a while I enjoy a good, angsty Christian novel. This one is about a girl with an abusive father who finds refuge with a caravan of gypsies in Depression-era Mississippi. (Angsty enough for you?) That and the fact that it's enjoyed a positive reaction from readers and critics is all I know about it.
That's all for me. What books are you digging into this week?