Book Fetish: Volume LXXXX
Since Rachel is adventuring, I get to step in and share a bunch of neat bookish swag this week. Get ready!
Book cardigan: So how do you BEST advertise your book loving ways and stay warm when you head to the library or coffee shop or couch? How about a cardigan covered in books? The icing on this cake is that the design is called "Herringbooks." You can get a closeup of the book design when you click the link.
Card catalog pouch: Kate Spade's newest items are an homage to libraries and this pouch might be the best thing in the collection. Ah, the days of using an actual card catalog. If a mere pouch isn't enough for you, you can get a purse, too.
The Little Prince Wall Art: Artist Stasia Burlington has this gorgeous print inspired by The Little Prince available as a piece of wall art and as a greeting card. If her style is your thing, there's also a print inspired by the classic The Princess and the Pea.
Literary Kicks: Okay. I don't know about you, but my life was not complete until I learned there is an artist who will custom-design high heels or flats or tennis shoes inspired by your favorite works of fiction. I've always liked Poe, but I think I may like him even more knowing I can wear him over my toes. Production time takes a few weeks but I think it looks like it's more than worth the wait.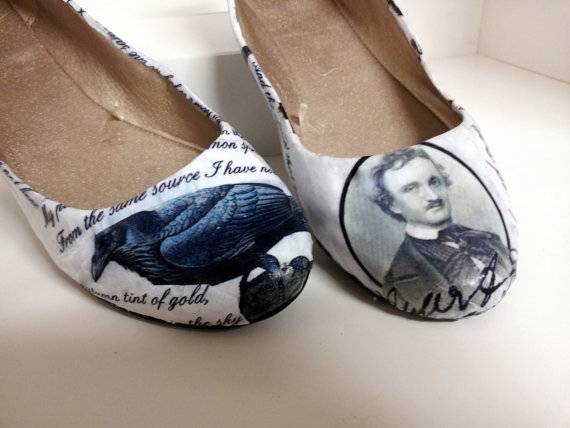 _________________________
Sign up for our newsletter to have the best of Book Riot delivered straight to your inbox every two weeks. No spam. We promise.
To keep up with Book Riot on a daily basis, follow us on Twitter, like us on Facebook, , and subscribe to the Book Riot podcast in iTunes or via RSS. So much bookish goodness–all day, every day.