Inbox/Outbox: February 21, 2014
I am excited to be filling in for Rebecca this week, because every week is a wonderful week for books! I just finished moving. Moving with books – it's a nightmare. I ended up packing 120 boxes of books. And while hauling all those books around was exhausting – I am lucky my man is still speaking to me – it didn't stop me from acquiring a bunch more! And now I will pollinate your brains with titles, like a little book bee.
Also, can you believe this crazy weather?!? I looked out the window at work the other night, and saw this:
Here are a few selections of my recent book adventures. If you'd like to see the full list of books I acquired, you can go to Franzen Comes Alive.
Inbox (Books Acquired)
Save the Date: The Occasional Mortifications of a Serial Wedding Guest by Jen Doll (Riverhead, May 1) I love it when wonderful people I follow on Twitter write books! I'm excited to read this. Jen Doll has written a memoir, told through the various weddings she has attended. She's really awesome online, and I bet it translates into her writing.
The Emperor's Blades by Brian Staveley Staveley got a three-book deal from Tor Books right out of the gate, which tells me they think they're on to something good, so I had to buy this book! The first in a series, it follows the sons and daughter of a slain emperor as they work to discover who murdered their father.
I Am Pilgrim by Terry Hayes (Emily Bestler Books, May 27) This 600-page thriller has already burned up the U.K. best-seller lists, and is now set to descend on the U.S. It's about a former U.S. Intelligence agent and espionage expert named Pilgrim, who must come out of hiding to help save America from being destroyed.
Outbox (Books Finished)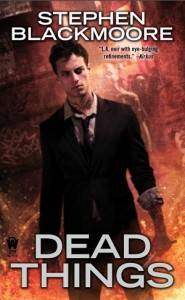 Dead Things by Stephen Blackmoore Another author I follow on Twitter that I was happy to support! (Twitter really does sell books.) Fans of Jim Butcher and Chuck Wendig will love this story of Eric Carter, a renegade necromancer who must travel to Los Angeles to discover who murdered his sister. Tons of dead fun! (Note: do not do a search for the cover image without including the author's name. Bleah.)
The Winter People by Jennifer McMahon With all the crazy snowy weather, I figured it was the perfect time to read this super-creepy tale of murder, missing diary entries and the undead. This is definitely one you want to read with all the lights on!
Grasshopper Jungle by Andrew Smith BELIEVE THE HYPE. Smith's story of teenagers trying to save their town against giant man-eating praying mantises is hilarious and raunchy and wonderful. It's one of those magical books that can make something so insane, like man-eating praying mantises, be the least interesting part of the story. More books like this, please.
In the Queue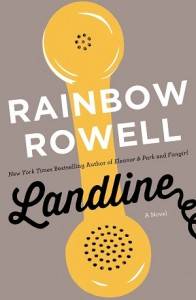 Landline by Rainbow Rowell (Harper Collins, July 8) RAINBOW ROWELL IS MAGIC. Everything she touches is gold. It's about a screenwriter trying to save her marriage. I am in the middle of this right now, and it is funny and heartbreaking. Trust me, you're going to want this. Well, not my copy. You can't have that. *turns on alarm system*
Salvage by Alexandra Duncan (Greenwillow Books, April 1) This book about a teenage girl living in space on a male-dominated merchant ship is HUGE, but I'm going to read it because fellow Rioter Preeti is so excited about it. Plus it's compared to The Handmaid's Tale, and I'm a sucker for those.
Nightwing by Martin Cruz Smith I have to read this book simply because look at the cover. How can I not????
That's the book honey for this week. Now tell me, kittens: What's going on in your bookish lives?
_________________________
Sign up for our newsletter to have the best of Book Riot delivered straight to your inbox every week. No spam. We promise.
To keep up with Book Riot on a daily basis, follow us on Twitter, like us on Facebook, , and subscribe to the Book Riot podcast in iTunes or via RSS. So much bookish goodness–all day, every day.