Buy, Borrow, Bypass: One Word Title Edition
[buyandread isbn="0373210965″ linkshare="http://store.kobobooks.com/en-US/ebook/heartbeat-15″]
[buyandread isbn="0449815978″ linkshare="http://store.kobobooks.com/en-US/ebook/gated"]
[buyandread isbn="0399160345″ linkshare=""]
[buyandread isbn="0062014552″ linkshare="http://store.kobobooks.com/en-US/ebook/panic-14″]
This round of Buy, Borrow, Bypass is all YA fiction with titles that are one word long. They all also happen to be realistic YA fiction, which is my favorite kind of YA.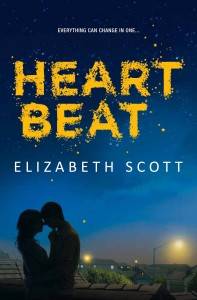 Heartbeat by Elizabeth Scott
Emma's mother is brain dead but being kept alive by machines at the hospital. Not for her, though. For the baby inside her. Emma's not just grieving the loss of her mother. She's also struggling to make peace with her stepfather's decision to keep her mother alive for the sake of their baby, and now that she's caught the attention of Caleb — a boy who would never have been a blip on her radar before her life fell apart — she's no longer able to make sense of just who she is or what it is she wants for the future.
Scott's newest novel take a premise that's straight from the headlines but never deviates from telling Emma's story. Emma is a tough girl, battling through the enormous weight of life changes coming at her faster than she believes she can take. It's a story with a girl who is angry, sad, and desperate, and it's a story with immense heart.
This is a BUY for those who love searing realistic fiction with dynamic female main characters, as well as those who enjoy romance — which, despite the cover, is less the plot's arc that it looks on the surface. Scott's work keeps gets better and better.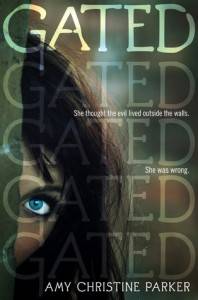 Gated by Amy Christine Parker

The premise of this debut novel (that will be getting a much-needed cover lift in paperback) is awesome. Lyla lives inside a sheltered community that's overseen by a man named Pioneer. It's a cult, of course, but Lyla never quite puts those pieces together; she's been under the impression that this is how life is, despite the fact that she didn't live here when she was really young. It's not a bad existence, really. It's safe and quiet and when the apocalypse/rapture/what-have-you hits — which will be soon — the members of the Community will be saved while those on the outside will not be so lucky.
Playing into stories of the Heaven's Gate cult or the YZF ranch, the "twist" in this book is, of course, that the real threat is from the inside. That Pioneer isn't the leader everyone thinks that he is. He's just mad with power and being as charismatic as he is, he's convinced others of his Knowledge.
This is a good enough cult book, but it's not outstanding. Lyla isn't a powerhouse main character, and that's okay. There are times when reading about an average teen girl who isn't emboldened with superpowers or superior intellect is enjoyable. Unfortunately, while the stakes here are high, the tension is low and the intensity of what's happening within the Community never comes together as it could have. Pioneer's manipulative powers never feel devious or evil and frankly, he's pretty boring, even when everything shakes out. It's a book you'd BORROW and enjoy, but not one you have to own.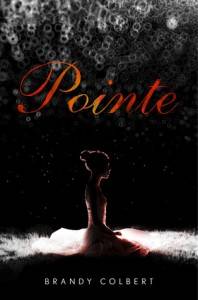 Pointe by Brandy Colbert (April 10, Penguin)
I know. This book isn't out yet, but it's so good — so, so good — that I'm saying straight up to BUY this one when it comes out or pre-order it now.
Theo's on track, finally, to be the prima ballerina she's always wanted to be. It's been a tough road, though, between the disordered eating she's experienced, the fact she's a black girl in a white world, and mostly that her best friend Donovan went missing four years ago.
But when Donovan comes back, suddenly the memories of what happened come flooding back to Theo. She's beginning to put the pieces together: when Donovan disappeared, who was his abductor? What role did that abductor play in Theo's own life? Has everything in these last four years between the grief, the eating disorder, the pain, been a result of something she's shoved down and tried to forget?
Theo is an incredibly flawed and incredibly real teen girl. She makes some really dumb decisions, and yet, those decisions are the ones she has to make in order to grow. This is a must-read for those who love dance books, who like their characters raw and unfiltered, who want realistic fiction that is layered, challenging, and unrelenting. This is a book about friendship, about abuse, and about being a girl living between so many worlds — those she creates and those created around her.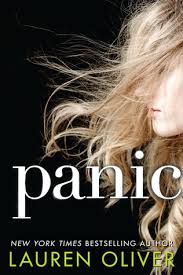 Panic by Lauren Oliver
In Carp, New York — a blue collar, poor town of only 12,000 — the high school seniors have the chance to partake in the annual, secret game of Panic. Participating in the game means putting your life at risk, but walking away a winner of Panic means that this year, you could walk away $67,000 richer. For Heather, that's money that could help her and her little sister make a better life for themselves, away from the trailer park and drugged out and abusive mother. For Dodge, playing Panic is a chance of redemption. It's an opportunity to get revenge after his own sister was hurt playing Panic two years earlier.
On the surface, this book shines. Oliver is a master at crafting delicious sentences and powerful images. But it's that talent which hides the monster plot holes abundant throughout the book.
Throughout the read, I kept wondering to myself how such a "small town" could possibly keep a game like this a secret. How could people who have DIED playing it keep it under wraps? If this is an annual event and causes the commotion it appears to, there's no way that a "small town" like this would not know. And for a "small town," keeping a game with a potential $67,00 payout secret — let alone limited to a very small number of a specific kind of person in that town — is really stretching the limits of believability.
This is a compulsively readable book, and both Heather and Dodge's narratives are engaging. It's fast-paced and the hook is excellent. But because it's so unbelievable for a "realistic" novel and riddled with plot holes you could drive a truck through, it's a BORROW, not a buy.
_________________________
Sign up for our newsletter to have the best of Book Riot delivered straight to your inbox every week. No spam. We promise.
To keep up with Book Riot on a daily basis, follow us on Twitter, like us on Facebook, , and subscribe to the Book Riot podcast in iTunes or via RSS. So much bookish goodness–all day, every day.
By signing up you agree to our Terms of Service