Inbox/Outbox: July 25, 2014
Inbox (Books Acquired)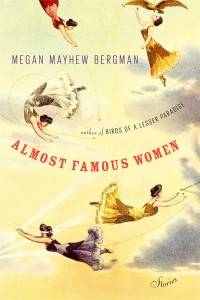 Almost Famous Women by Megan Mayhew Bergman (Scribner, January 2015) – If your computer or phone is shaking while you read this, it's because I'm waving my muppet arms all over the place. Megan Mayhew Bergman's debut collection Birds of a Lesser Paradise is one of my favorite short story collections, and I couldn't be happier to have this new one in my hot little hands. Bergman imagines the lives of experiences of famous, infamous, and nearly-famous women–some who sought fame and some who sought to avoid it–as she explores the decisions women make about passion and pursuing our dreams. I started reading about ten minutes after it showed up on my doorstep, and so far it's every bit as wonderful as I expected. Definitely one to look forward to.
Powers of Two: Finding the Essence of Innovation in Creative Pairs by Joshua Wolf Shenk (Houghton Mifflin Harcourt, August 5) – Creative work and collaboration are part of my gig here, a big part of it, so thinking about how creativity and collaboration work isn't too far behind. This book combines business practices, social psychology, and cultural history to explore the impact of working in pairs and what makes a pair work best. Love the concept, looking forward to digging into the details.
Outbox (Books Finished)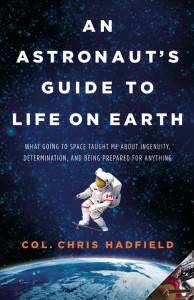 An Astronaut's Guide to Life on Earth by Col. Chris Hadfield – The subtitle of this memoir-meets-self-help work is something of a misnomer. Hadfield's book is less about what going into space taught him than it is about how training as an astronaut and preparing to go into space shaped his approach to, well, just about everything. There are fun science facts and fascinating space travel stories here, sure, but what really stands out is Hadfield's perspective on work, family, and ambition. This is a book about the value of putting everything you have into everything you do, no matter how small, so that if/when your big moment comes, you can shine…and if it never comes, you can have the satisfaction of knowing you've done your best at every step along the way. Hadfield is practical, personable, and charmingly self-deprecating, and his narration of the audiobook (which is how I read this one) is a delight.
In the Queue (What I'm Reading Next)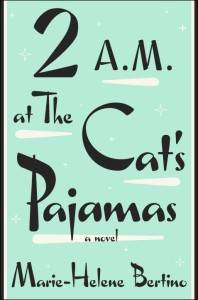 2 A.M. at The Cat's Pajamas by Marie-Helene Bertino (Crown, August 5) – The main character of this novel, which comes to me highly recommended by a bunch of smart booksellers, is a nine-year-old jazz singer. What more do you need to know? I am in.
Above Us Only Sky by Michele Young-Stone (Simon & Schuster, March 2015) – I met Michele Young-Stone in 2010, shortly after her debut novel The Handbook for Lightning Strike Survivors came out–we lived in the same city at the time and were bound to run into each other at literary stuff–and we've been friends ever since. I've also read three versions of this novel along the way, so you can take this recommendation with all the disclaimers in the world if you want them. This is a story about history and magic, pain and power, and one family in which the women are born with wings. It's beautiful and strange and smart and important. I'm so happy for and proud of Michele, and it's a thrill to hold a copy of this book in my hands.