The Week's Most Popular Posts: July 21 – 25, 2014
Here's a look back at the week that was. . .
It's a normal summer day in Washington, DC. The sun is shining, and it's hot but not as hot as it's been. I come strolling out my front door and down my walk, thinking that today is like any other day. I turn the corner outside the gate of my house and stop.
Dead in my tracks.
The sight in front of me is horrifying. It's devastating. I'm paralyzed by the shock of the sight.
MY LITTLE FREE LIBRARY HAS BEEN RAVAGED.
from My Little Free Library Has Been Violated by Swapna Krishna
____________________
Want more bookishness if your Facebook feed? Check out these wicked awesome author fan pages.
from 15 Author Pages You Should Like On Facebook by Kate Scott
____________________
Being a mobile book hoarder can be a challenge. In the last 10 years I've moved 12 times, and my boyfriend and I are currently gearing up for move number 13. My family is, thankfully, always up to help, but they've started to balk at moving my library.
Although getting my books from one place to another is one of the most daunting parts of any move, it's also one of the most satisfying. In the stress of setting up a new place, organizing my bookshelves always makes me feel calm and makes a new space start to feel like home. And after a decade of moves, I've got some well-honed (and simple) strategies for moving a ton a books.
from 8 Tips for Moving When You Have A Ton of Books by Kim Ukura
____________________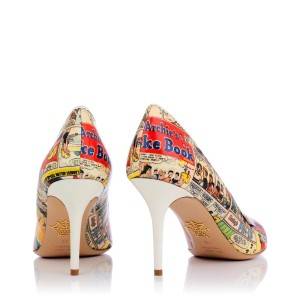 from Twinkle Toes: Bookish Shoes for Literary Feet by Rachel Manwill
____________________
The other day a website posted the 50 Coolest Authors of All Time. Turns out almost all of those authors were men, and almost all of the authors were white. I have nothing against white people (I'm white), and I have nothing against men people (in fact, I rather like you guys, you're just my type)… however, I find it hard to believe that the 50 coolest authors actually were white men (ok, and like, three white women). In fact, I find it hard to think that there are 50 coolest authors in general. So how about this… this list of 50 Cool Authors, period. Some of these you'll know like the back of your hand, some might be new to you. That's kind of the point – hopefully you will find a kick-ass new-to-you author whom you can add to your Cool Author shelf.
from 50 Cool Authors, Period by Wallace Yovetich
Enter to win
$250 to spend at Barnes and Noble!