Punctuation Jewelry for Grammar Enthusiasts
Punctuation. What is it good for? Absolutely everything.
Well, at least two things: making meaningful sentences and inspiring beautiful jewelry. Antique, new, precious, costume: whatever floats your punctuation jewelry boat. There's something for everyone.
My own love of punctuation jewelry is rather new. My epiphany happened very abruptly, when I had the opportunity to put this beauty on my finger: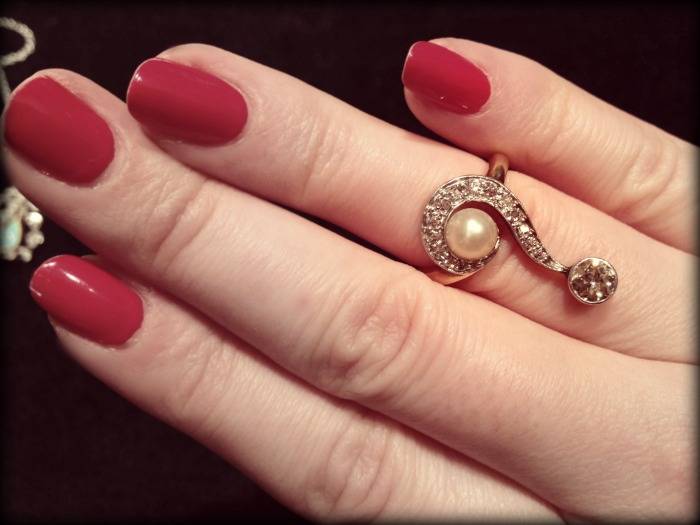 That's just over half a carat of diamonds on that inquiring curve, cradling one pearl at the center. This amazing ring dates to the turn of the century, and is made in platinum and gold.
I didn't buy it, but only because my landlord insists I have to pay rent every single month. Yes, that means it's still for sale.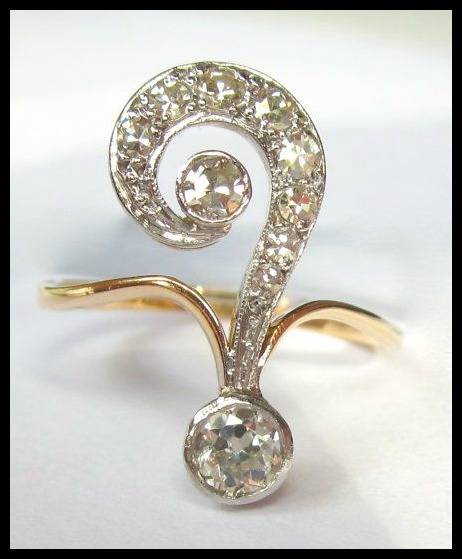 This beauty is Art Nouveau, and it's been sold, so don't fall in love too hard. I just couldn't resist showing you. It's gorgeous, isn't it?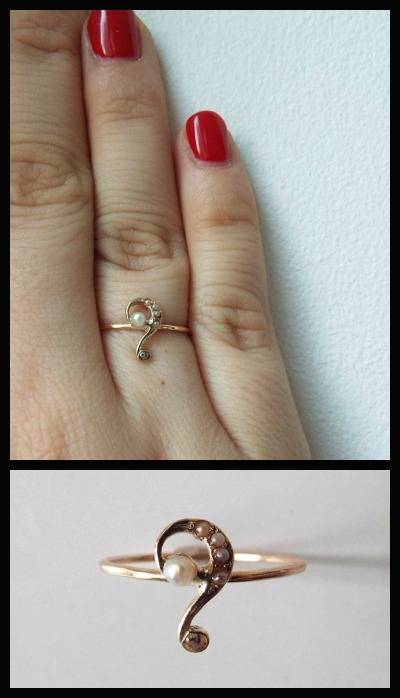 Here's another antique option, which has spent time in my Etsy shopping cart on more than one occasion (still available at Heart of Solid Gold as of right now, though!). It's a Victorian 10k gold and pearl question mark stickpin converted into a ring. Dainty and lovely.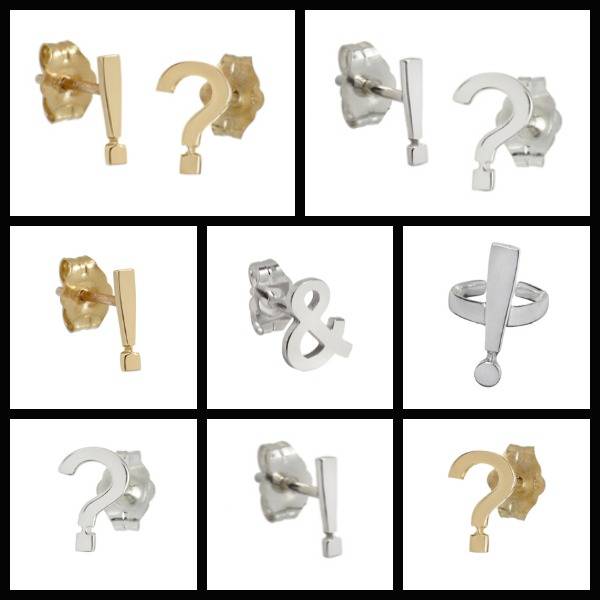 These fun little pieces are all from Wendy Brandes' WendyB line. They come in sterling silver or gold (the silver is super affordable). Bonus points if you stack them to create an interrobang!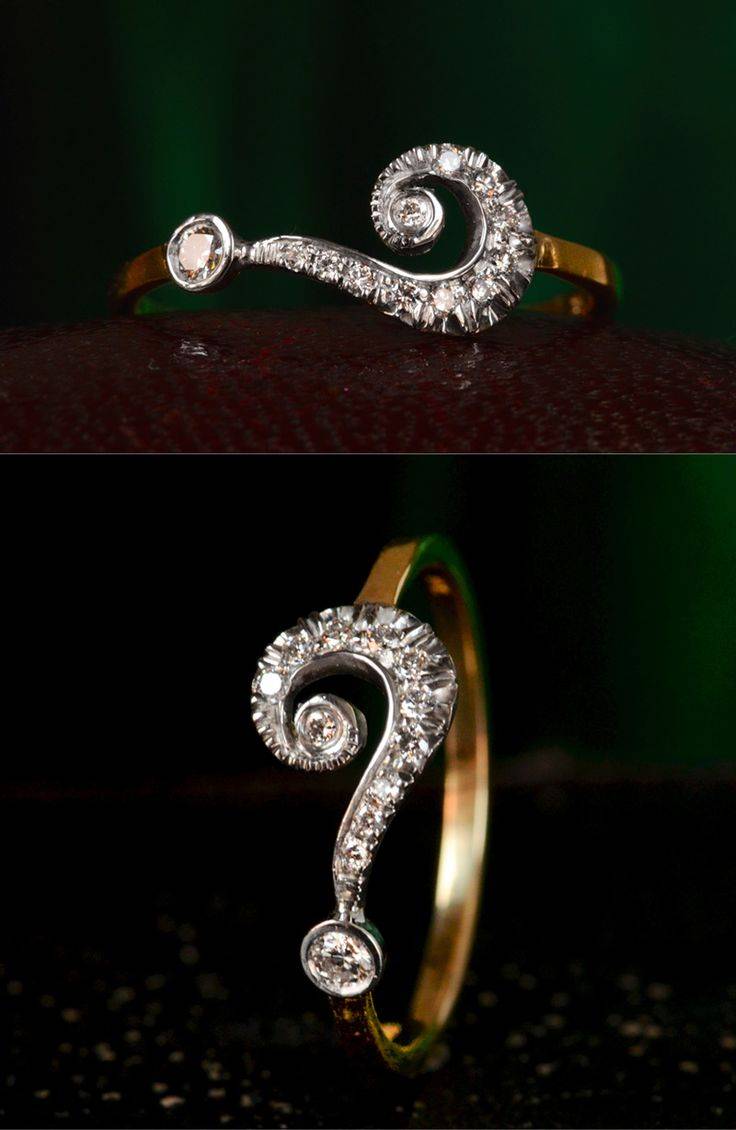 If you loved that very first ring, but want something more understated, check out this original design for sale by Erie Basin. It's contemporary, but antique inspired. Diamonds, gold, and platinum. How incredible would this be as an engagement ring? You'd be popping the question with a question mark!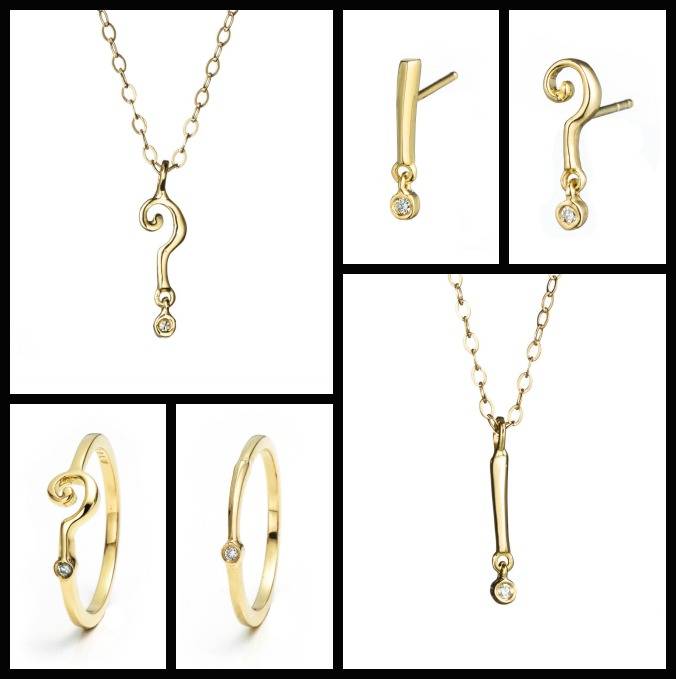 Lulu Frost's CODE collection also includes punctuation pieces, some of which sparkle with lovely little diamond elements.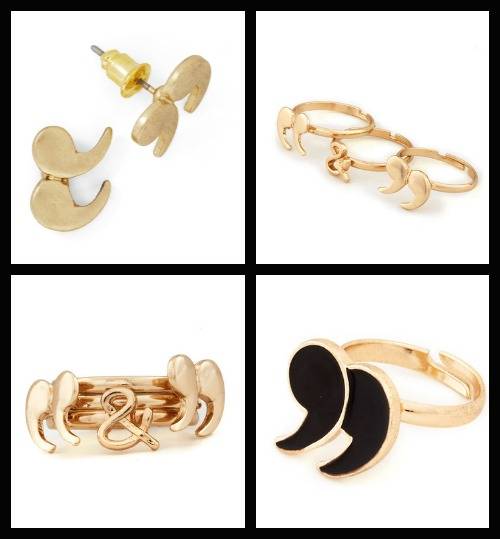 These adorable and very affordable cuties are all for sale at Modcloth (1, 2, 3). Multiple Rioters have vouched that having these in your jewelry box is an experience you won't regret.
Do you know of any fabulous punctuation jewelry that I've missed? Are you going to run out and buy any of these, or do you already own some? Tell me all about it!
Images via Erie Basin, Mag Wildwood's Closet, Heart of Solid Gold, Wendy Brandes, Charm and Chain, Modcloth, and me (1st image).
Please note: the Erie Basin question mark ring is not yet available in the online shop, but I've been assured that it will be soon.