Buy, Borrow, Bypass: Bioethical Fiction
I've been reading a bunch of bioethical fiction lately because I'm adding a fiction component to my bioethics course this fall. My pre-med students, often not big readers to begin with, find their time for reading shrinks the further they move into their medical careers. I'd like to remind them that reading fiction can increase empathy, provide an opportunity to engage with a whole person and not a disease or a body part, expose us to the richness of language, and stimulate our creative sides. Here are a few speculative picks with dystopian settings: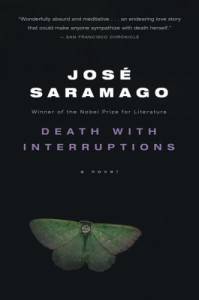 Death With Interruptions by José Saramago
Usually when a book gets mixed reviews it means some critics loved it and some hated it. But critics are actually divided about the two distinct parts that make up this short novel. The first half is a satire of the political and social fallout when people stop dying in a small Spanish speaking country. What will the Catholic church do? If people can't die they can't be resurrected! And how about the funeral directors, not to mention the families that have to put up with dying relatives forever? The second half focuses on death, personified as an elegant woman who uses violet stationery and, improbably, falls in love with a middle aged cellist. I think it's a meditation on beauty, the one kind of immortality that may not be beyond a human being's grasp, and while I can see how some readers lose patience with a romance between death and some random striped-PJ wearing guy whose resistance to dying is never explained, I was charmed.
Verdict: For Saramago fans, Buy. For those curious about this strange amalgam, Borrow.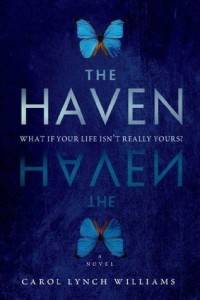 The Haven: A Novel by Carol Lynch Williams
This young adult novel has a lot of familiar elements: it's set in a beautiful boarding school with a lot of strange rules and a very dark secret at its heart; it features teen protagonists who figure it out and fight the power; and two of those teenagers fall in love. The Big Secret will be obvious within two pages to anyone with even a passing acquaintance with Ishiguro's Never Let Me Go or films like The Island. I liked the way the author portrayed the deep socialization of the heroine and her psychological fear at giving up her familiar worldview. That psychic shift is often glossed over in other escape-from-dystopia books. But the plot and characters feel stale, major questions are left unanswered, the worldbuilding is incomplete, and the ending is rushed. While I'm normally a big fan of good YA, I can't recommend The Haven to adults or older teens, although it might be suitable for younger readers just getting into the genre.
Verdict: Unless you are a dystopia-crazed middle-grader, Bypass.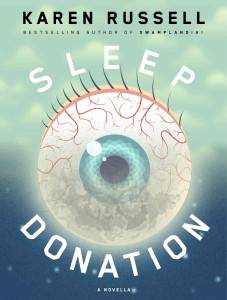 Sleep Donation: A Novella by Karen Russell
This is a Kindle single with a fantastic premise: people are dying of terminal insomnia. These "Orexins" gradually lose the ability to sleep until their LD, or Last Day, a grotesque period of slowly deteriorating wakefulness. Trish Edgewater lost her sister this way, and now recruits "sleep donations" from healthy sleepers for The Slumber Corps. Themes include the dangers of over-stimulation and technology saturation, the mental health care crisis, and pollution, but examining the impact of modern life on human relationships is what this little book does best. When everything in a late-capitalist society is transactional, what is a donation anyway? It felt a little unfinished in some ways, but Karen Russell's writing more than made up for that:
Some intern has made curtains for the trailer windows , snaggy lace, which look nothing like curtains, in fact, but vestments tiny and obscene: bridal veils for mice, chinchilla negligees. They flutter in the trailer's manic air-conditioning. Outside, the moon is a colossus. Its radiance makes every white of human manufacture seem dingy, impure.
Verdict: Buy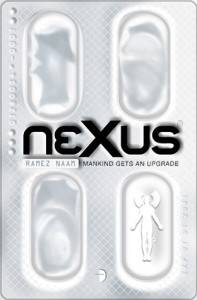 Nexus by Ramez Naam
I'm not usually one for "hard" sci fi, but I was intrigued by the premise of this near-future techno-thriller: Nexus, a nano-drug that connects human minds so they can share thoughts, has been upgraded by an idealistic young scientist, Kaden Lane, to take apps that boost human capabilities. Nexus can be used for torture, to boost empathy, and for a wide variety of ends both good and evil. Of course, everyone wants Kade to ally with them. The focus on the one brilliant scientist having all the knowledge and the world on his shoulders felt jarring after reading the previous three books that tended to disperse power and responsibility across a wider social spectrum. I was drawn in by the promise of an exploration of transhumanism, posthumanism, the social responsibility of science, and the limits of civil liberties. Unfortunately, I found the treatment of these issues to be superficial, full of platitudes like "To empower the downtrodden, we must put knowledge in their hands." and  "We're all born dying … What matters is only what we do with the instant we're given." Still, as thrillers go, if you can stand the violence, Nexus was pretty engaging, and I've heard the sequel, Crux, does a better job with the philosophical themes.
Verdict: Borrow
____________________
Expand your literary horizons with New Books!, a weekly newsletter spotlighting 3-5 exciting new releases, hand-picked by our very own Liberty Hardy. Sign up now!