Buy, Borrow, Bypass: Graphic Memoir Edition
I've read a pile of graphic memoirs lately. While I'm not a huge fan of standard memoirs, there's something about the graphic format that makes me devour them. There's so much potential and depth offered in the visual storytelling elements and when done well, the tone of the memoir is stronger and more memorable. The art matters as much as the story does.
Here are a few recent (and one forthcoming) graphic memoirs spanning all reading levels: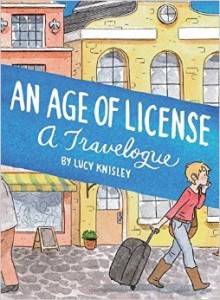 An Age of License by Lucy Knisley (Fantagraphics, September 22)
After the publication of Knisley's French Milk, she was invited to a comics event in Norway to present. Rather than limit her trip to Norway, she uses it as an opportunity to do some European exploring, to include spending time with her long-distance Swedish boyfriend. An Age of License is her travelogue.
On the surface, it's a story about her travels, but Knisley's memoir is much more than that. It's about love and romance, as well as about "finding yourself" and what that phrase may mean. While in France, she was told there's a French expression that translates to "An Age of License," or that period of time in young adulthood when you should feel free to explore the world, embrace chances, and try new things without worrying about settling down too soon. Knisley finds this idea fascinating and wrestles with what it means to allow yourself this freedom or to want something solid and stable to build a foundation upon. Ultimately, the book is about how life doesn't need to be wholly one thing or the other. The beauty of being an adult is you can have that freedom and that stability.
An Age of License is a worthwhile read, especially for 20-somethings trying to find their place in the world, so put it on your Borrow list. The art in this one is solid and adds to the story. Since it's in partial color, don't read this one on your black-and-white-only ereader.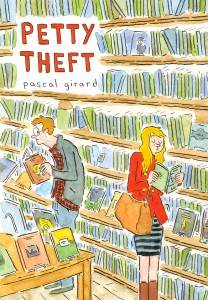 Petty Theft by Pascal Girard
This graphic novel in translation has a fantastic premise and it's fun and funny. When Pascal and his girlfriend of 9 years break up, he moves into a friend's spare bedroom. It doesn't take long before books begin piling up. Pascal had been writing and drawing comics, but with the breakup, he lost his inspiration and took a job doing manual labor. He's not good at it.
Pascal frequents a local bookstore, where he hears there's been a rash of theft lately. He's determined to get to the bottom of it, and when he notices a girl stealing one of his books, he's positive he can charm his way into getting her to confess and solving the store's theft problem.
All is well until, of course, he starts to have feelings for the girl. Now he can't figure out whether to try to sneak those books back into the store without getting her in trouble or if he should tell her that he knows her secret and get her to own up.
While amusing, there's some flatness to Pascal's character and the visual component isn't always engaging. It's at times quite small and a bit difficult to decipher. Petty Theft is one to Borrow, and it's total catnip for us book lovers.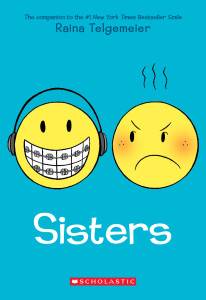 Sisters by Raina Telgemeier
Telgemeier has a knack for telling really compelling, enjoyable, and funny stories with her graphic novels, and Sisters is no exception. This is the companion to the Eisner Award-winning Smile, but no need to read that one to understand this one, as it stands wholly on its own.
Raina always wanted a little sister, but when she gets her wish, it turns out not to be as great as she thought it would be. Amara being a part of the family now means Raina has to share things she never did before, and she's no longer the center of attention.
Sisters alternates between the backstory of their relationship to the present of the story, where the girls are on a road trip with their mother and little brother, on the way to a family reunion. The trip isn't all sugar and spice. There's bickering, there's tension, and there's also a surprise long-lost pet who may make an appearance. Telgemeier draws as skillfully as she writes this story, which tackles not just the ups and downs of sibling relationships, but it also tackles what it means to be an artist, what it means when your family has financial struggles, and more. It's full of humor, despite the fact it does explore harder topics within it.
Put Sisters on your Buy list, especially if you love reading middle grade or if you know a middle school reader — this is an excellent book to gift. This is a full-color graphic novel.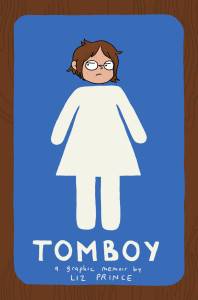 Tomboy by Liz Prince
What if, when you're a child, then a teenager, you really just don't like dressing like the gender you identify with? That's the question at the center of Prince's memoir.
As a young kid, Prince liked dressing more like society expects a boy to dress, and it's something that causes those around her to give her a hard time. She's never "girl enough" for other people, and at the same time, she's aware she's not "boy enough" to ever be a boy. It's not that she doesn't want to be a girl or that she doesn't identify as one; it's that she expresses herself in a way that's not always openly accepted.
More, this is a book about bullying and about those rough years in middle school where all you want to do is to fit in with your peers and how that can become much more complicated when you don't want to have to fit in. And, of course, it's only amplified by puberty and your body disobeying your wishes.
Prince's art takes this book from good to knock-out. Where a memoir about gender expression and identity is always welcome, the way Prince uses illustrations to really showcase those feelings and experiences visually takes this to an entirely new and memorable level. Buy this one. Read it, then reread it, then pass it along to teens and adults who are interested in discussing or who have experienced the challenges of our society's deep-seeded beliefs in gender.
____________________
Can we interest you in a bookish t-shirt that not-so-subtly displays your love of reading? Can be yours for less than $20, shipping included. Get it here.