Amazing Antique MICE AND MEN Bracelet
If you love a good piece of jewelry, a mystery, or a bit of bookish history, then this is the post for you, my friends.
First things first: take a gander at this extremely cool antique Mice and Men bracelet. Awesome, yes? Well, wait until you hear its backstory.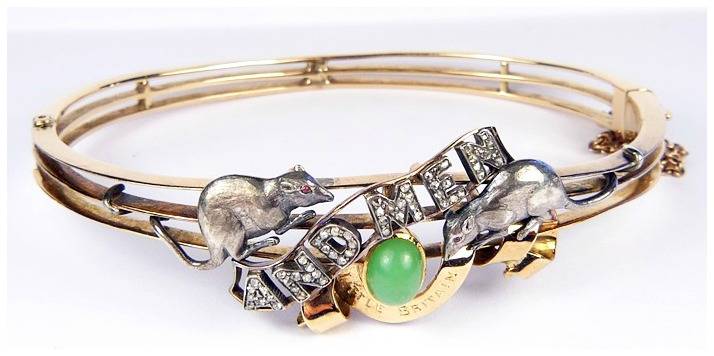 The bracelet itself is made of of solid 9 karat gold, very fabulously decorated with two silver mice flanking a silver-topped gold banner that reads "AND MEN" in letters set with rose-cut diamonds.
The mice are amazing: they have textured silver fur and beady cabochon garnet eyes. The banner unfurls over a larger green jade cabochon, under which curls a gold ribbon that is engraved "LITTLE BRITAIN."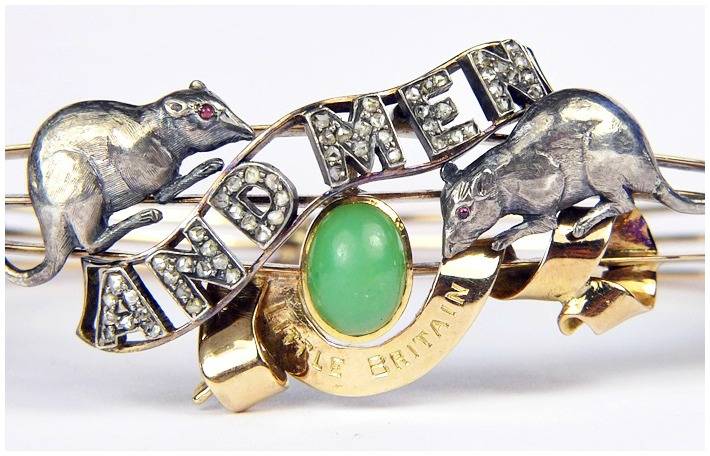 At first, I assumed that this design was a visual reference to Steinbeck's Of Mice and Men. But this piece dates to the early 1900s, when Steinbeck was just a child. Of Mice and Men wasn't published until 1937.
My next theory was that the bracelet must be an homage to the Robert Burns poem of 1785, entitled "To a Mouse."
But Mousie, thou are no thy-lane,
In proving foresight may be vain:
The best laid schemes o' Mice an' Men,
Gang aft agley,
An' lea'e us nought but grief an' pain,
For promis'd joy!
I love any excuse to revisit that poem, but this explanation felt like a stretch and neither theory accounted for the "Little Britain" inscription. In the thrall of jewelry curiosity, I reached out to the seller and asked if they knew anything about the bracelet's provenance.
Dan at Victorious Antique Jewelry was kind enough to tell me this piece's whole wonderful story, complete with relevant documentation. It turns out the piece isn't a direct reference to Steinbeck or Burns.
Instead, the bracelet was custom made as a gift made for actress Gertrude Elliot to commemorate her part in the 1903 production of a play called Mice and Men, which appears to have been a romantic comedy. Ms. Elliot played a character named "Little Britain," which explains the bracelet's inscription.
Here's an except from a February 11th, 1902 New York Times review of Ms. Elliot's performance: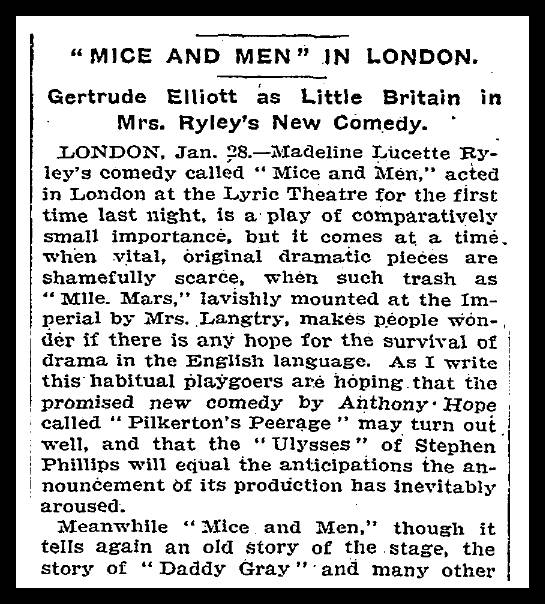 The play also inspired a 1916 silent film of the same name. The film did not survive, but here's a link to the script for the play.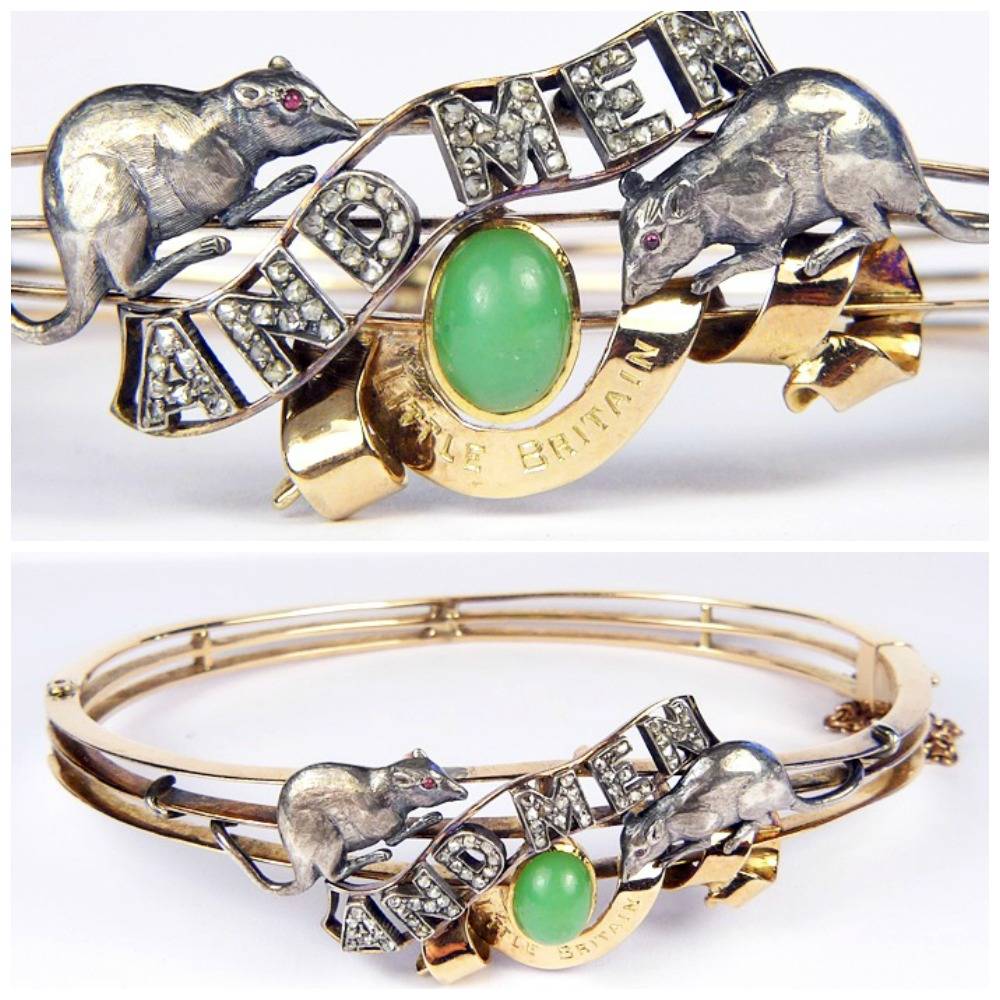 What do you think of this crazy cool piece? Would you ever wear something like this?
This amazing bracelet is currently for sale. Please let me know if one of you buys this so that I can be appropriately consumed with envy.
Mice and Men bracelet images and research via Victorious Antique Jewelry, poem excerpt via the Alexandria Burns Club.