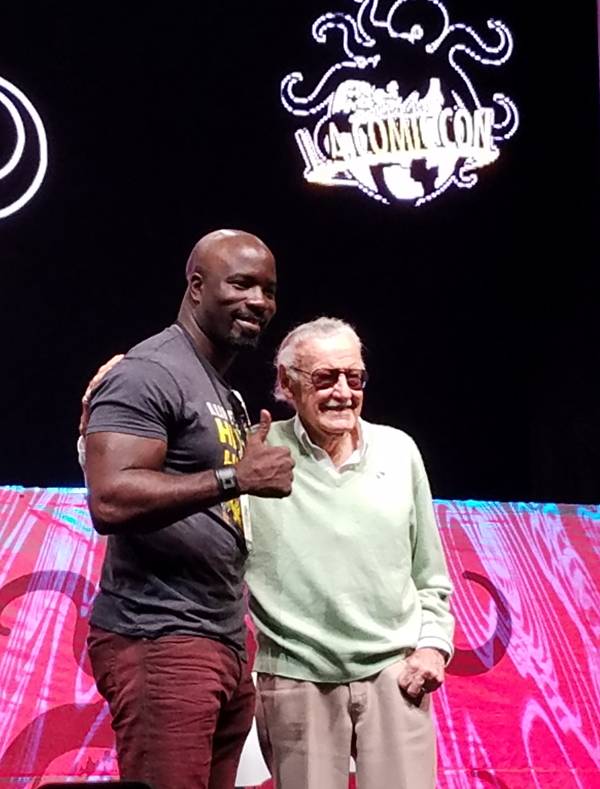 Los Angeles Comic Con 2016: From Harry Potter to Luke Cage
This year was the first official Stan Lee's L.A. Comic Con. It has been known as both Comikaze Expo and Stan Lee's Comikaze Expo but was renamed earlier this year, its sixth year in existence. I've gone to this con almost every year since its inception. It has had a laid back feel to it, celebrating a number of pop culture fandoms and not just comics. Among the dozens of Harley Quinn and Iron Man cosplayers there were also a good number of non-comic cosplays such as Captain EO, a Kurt Cobain, and many from the Harry Potter universe.
There was a wide variety of panels as well. Though I missed the Hamilton sing-a-long (whines) I did make it to the Harry Potter Academia: Harry Potter Fandom 19 Years Later panel. The panel featured speakers from the Los Angeles Dumbledore's Army, the second largest Harry Potter meetup group in the world. They talked about Harry Potter fan films and the new canon information that has appeared over the years from Pottermore. The roles of activism and social justice in the Harry Potter universe were discussed and connected to what fans can do today in the muggle world. Also discussed were Harry Potter travel destinations followed by an overview and some thoughts on Harry Potter and the Cursed Child. One of my favorite speakers was the professor from Cal Poly Pomona who teaches a Harry Potter course. She went over some of the beasts we'll see in the upcoming Fantastic Beasts and Where to Find Them film as well as some of what we know about Ilvermorny and the other wizarding schools.
I also listened to Mike Colter, aka Luke Cage, talk about the show and his character. When Mike Colter stepped out on stage the moderator said, gesturing to the screaming crowd, "Look at all these coffee dates!" Colter laughed playfully and said, "Yeah, and no one here drinks coffee." When the audience finally got a hold of ourselves we got to learn about the gracious and thoughtful actor behind Luke Cage. A child asked if he ever has moments while shooting the show where he feels like he's actually a superhero. He said he definitely has had that experience and he'll go and sit in his trailer for a while to come back to reality. Colter seemed to choose his words very careful and deliberately, stressing that the show is for everyone and saying "Luke Cage isn't a black superhero; he's a superhero who happens to be black." He also spoke about the role that books play in the life of Luke Cage. Luke tends to be very reflective and responsible, a deep thinker who got his powers after he was already a fully-formed adult. Colter explained that reading books, especially the books mentioned in the show, can teach a person about how the world sees them and it feeds Cage's self-awareness. Of course, this wouldn't be a Stan Lee event without one of Lee's famous surprise appearances so in the middle of the talk, Lee dropped in with a mic and full of praise for the life Mike Colter has breathed into Luke Cage. Lee very firmly said to Colter (but into the microphone) that if anyone does anything with the show that Colter doesn't like, he [Colter] needs to report it directly to Lee. Naturally, the audience went crazy.
Stan Lee's L.A. Comic Con is not large. There were some questionable booths (teeth whitening? Seriously?) and parking was an absolute nightmare. But I think it's something special. It's held on the last weekend of October so you get a mix of your usual cosplayers plus Halloween costumes. A number of the panels seemed to be made up of locals and local groups. Parking aside, this con seems more accessible to a wider variety of people and not just those of us who read comics. The inclusiveness of all fandoms is what will keep me going to Stan Lee's Comic Con year after year.