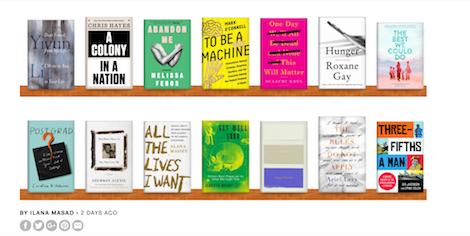 14 Nonfiction Books to Read in 2017: Critical Linking, January 23, 2017
Today's Critical Linking is sponsored by It's All Absolutely Fine by Rudy Elliot.

---
From memoirs of grief, depression, and mothers to examinations of celebrities and critics; from explorations of bodies and hunger to the wonders of histories and present days that are often forgotten or ignored—there is much to learn, to love, and to weep over in this year's crop of nonfiction works.
Great list of upcoming nonfiction to look forward to!
---
Over a year ago, I contacted Goodreads to let the managers of the site know that the top quotation they list by George Eliot is bogus:
"It is never too late to be what you might have been."
Yes, you've seen it attributed to Eliot everywhere: Twitter, Facebook, Pinterest, t-shirts, kitchen magnets, mugs, bookmarks, tote bags, tattoos. But there's no source.
This feels like, and probably is, a small thing, but now that we're in the world of "alternative facts," fact-checking feels even more important.
---
When she received her first check for writing, she didn't buy necessities or even champagne, but an entire cart full of flowers. She had dramatic and tumultuous love affairs with both men and women. She was ambivalent about her audience, famously telling a reporter, "I don't particularly like children."
Goodnight Moon author Margaret Wise Brown was fascinating.