Inbox/Outbox: February 3, 2017
It's been hard to read anything this week other than scripts for calling my representatives to yell about something or the other, but I managed to get some done. Let's do it:
Inbox (Books Acquired)
Miranda and Caliban by Jacqueline Carey (February 14, Tor)— Jacqueline Carey (of Kushiel's Dart fame, amongst other things) has written a retelling of Shakespeare's The Tempest? I couldn't rip this out of the envelope fast enough. And that cover! Be still my heart. I'll read anything she writes.
The Land of Forgotten Girls by Erin Entrada Kelly— My favorite writer of middle grade books about Filipina girls growing up in the south? All by Erin Entrada Kelly. Ok, the only middle grade books about Filipina girls growing up in the south that I know about are by Erin Entrada Kelly, but really I love them, and just pulled this one out of the library. It's about two sisters, abandoned by their father and living in poverty in Louisiana with a step-mother they don't get along with, and the stories they tell themselves to survive and cope.
Outbox (Books Finished)
Here We Are: Feminism for the Real World, edited by Kelly Jensen –Kelly Jensen is an Associate Editor here and fights the fight for women every day, and I've watched her put this book together over the last year or so, and the result is so, so great. Sarah McCarry's essay about being a cool girl is pure fire, Amandla Sternberg's contribution about how white women get credit for co-opting beauty traits that black women have naturally and yet are criticized for is so eye-opening, I mean the whole book is like this. It's wisdom and fire and boots-in-faces, but presented lovingly and with compassion to the teenagers in its intended audience who might not understand what feminism is or why we need it. Go get it.
White Trash: the 400-Year Untold History of Class in America by Nancy Isenberg— Finally got through this beast on audio, and I absolutely recommend it to anyone confused by the way white people voted against their own best interests and for the oppression of their neighbors to put 45 in office. It is apparently something lower class whites have done on these shores for 400 years: sacrifice themselves and others in order to move up a social ladder we like to pretend isn't real here because we thought we were fleeing so much of it when we left the British Empire. Alas.
In the Queue (What I'm Reading Next)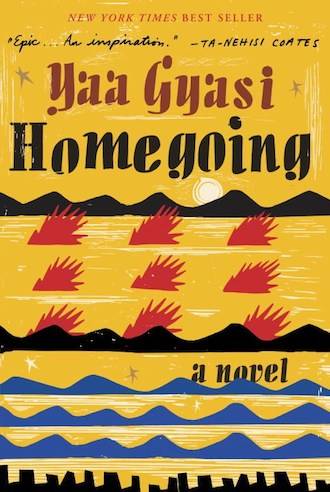 Homegoing by Yaa Gyasi— Took six months, but my number finally came up on the library hold list! I'm about halfway through it and it's just as good as everyone has been saying. I do love when the buzz isn't bullshit.
The Pleasures of Cooking for One by Judith Jones— I've been single for over a year, and my ex and I split custody of our kids, so I'm all by myself for dinner time half the time. I haven't shaken the habits I have for cooking for four, so I inevitably end up eating leftovers all week (boring) and wasting some (unethical and not thrifty, which I do want to be). I picked this up at the library when I was looking for cookbooks for one, and I loved how the introduction makes the point that cooking for yourself isn't a waste of time, that if you cook for people because you love people, that should extend to yourself. I'm looking forward to diving in!