Wonder Woman 2 Has a Release Date: Is It Here Yet?!
Our excitement for Wonder Woman is never ending. After waiting more than 40 years since Lynda Carter wore the cape and boots for a new anything starring Wonder Woman it's an amazing and beautiful thing to see the Wonder Woman film kicking major ass at the box office. And now we have not only confirmation that there will be a sequel (talk about no faith studios that this deal wasn't made with the first!) we also have the release date: December 13, 2019! It may be too early to make the popcorn but it is the perfect time to start making some noise about Patty Jenkins' not having been locked in as director for the sequel yet. And very important let's make sure the sequel has many women of color front and center.
While we wait for 2019–seriously, can't get here fast enough!– here's a Reading Pathways to Wonder Woman and Books To Read If You Like Wonder Woman.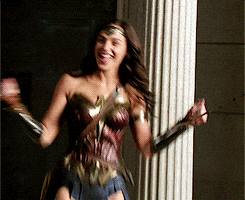 A woman checked out a book called
How to Win a Local Election
. And she did. Listen to 
Annotated
on
Apple Podcasts
or
Google Play
to hear her story.