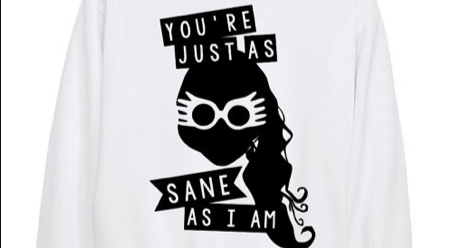 30 Cozy Harry Potter Sweatshirts for Fall
The first day of fall was September 22 and I hope you were all as pumped as I was. Fall is hands down my favorite season. It's not so hot you want to stand perpetually under a steady stream of cold air, and not so freezing that you turn into a snowman when you step outside.
Since we can't be Hogwarts students and go pick up a snazzy sweatshirts in Diagon Alley or Hogsmeade, here are some Harry Potter sweatshirts for your cuddling pleasure.
So grab a steaming mug of Butterbeer (or coffee with fire-whisky if that's your thing), prepare to drain your wallets, and fill your closets with MORE Harry Potter merch. Curl up in your favorite chair and pretend you're in your house's common room.
PS, for additional book-related swag, we've got your hook-up.
Let's start with the obvious.
Harry Potter House pride sweatshirts
The official-licensed Harry Potter Shop has your basic black hoodies with the House crests.  Choose your poison and wear it with pride: Slytherin | Ravenclaw | Gryffindor | Hufflepuff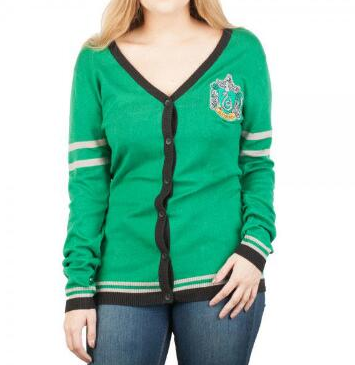 For the preppier HP fan, there's the HP Shop House crest cardigans. Unfortunately, only Slytherins and Gryffindors can get them, because, you know, those are the only two House options…*insert eye roll here*: Slytherin | Gryffindor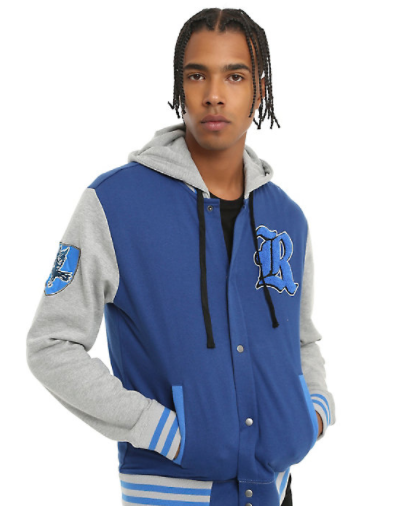 Hot Topic, of all places, has some House athletic jackets for all those wizarding folk who still keep up with Muggle sports: Slytherin | Ravenclaw | Gryffindor | Hufflepuff
General Hogwarts Harry Potter sweatshirts 
If you prefer to remain neutral, a general Hogwarts sweatshirt is perfect.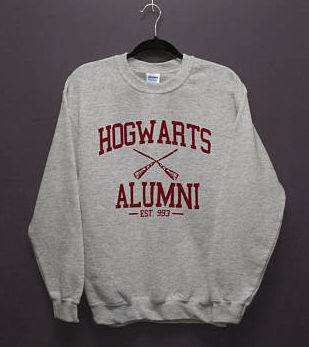 Show off your alma mater with an alumni sweatshirt.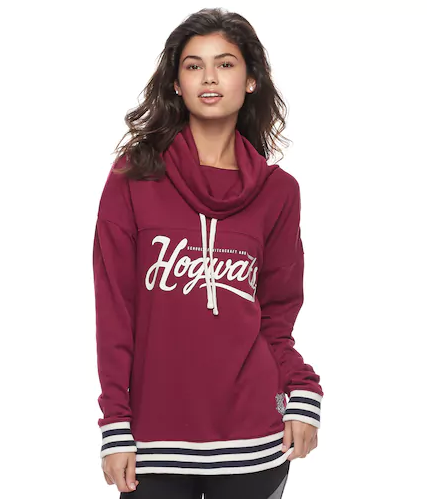 Kohl's has this super cute cowlneck Hogwarts sweatshirt.
Book Title-Related
This is simple but dynamic, with the main identifiers of each of the seven books (because we don't acknowledge The Cursed Child).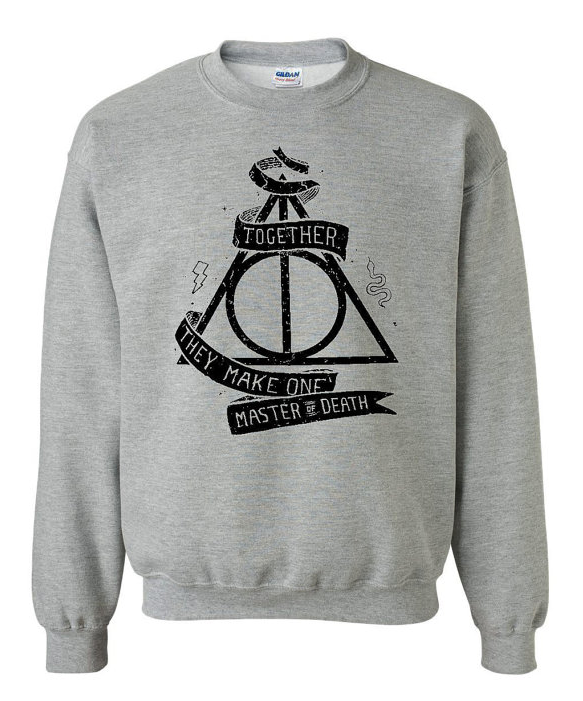 You'll definitely be the master of death wearing this.
Here's a more understated Hallows sweatshirt, if that's your thang.
Quidditch sweatshirts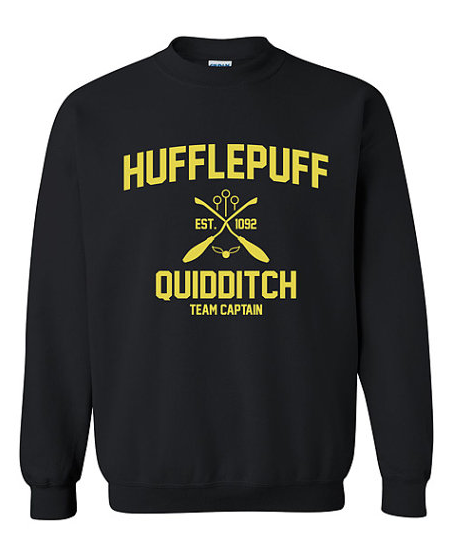 Support your Quidditch team! Grab one representing your House: Slytherin | Ravenclaw | Gryffindor | Hufflepuff
This Etsy shop also has sweatshirts for all positions on the team.
Book Quotes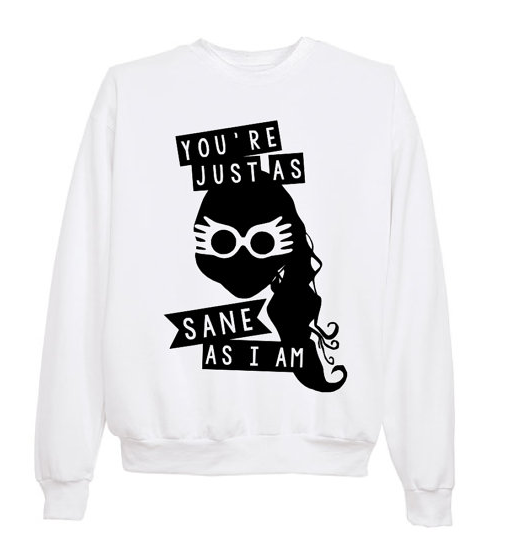 Because, all hail Luna, honestly.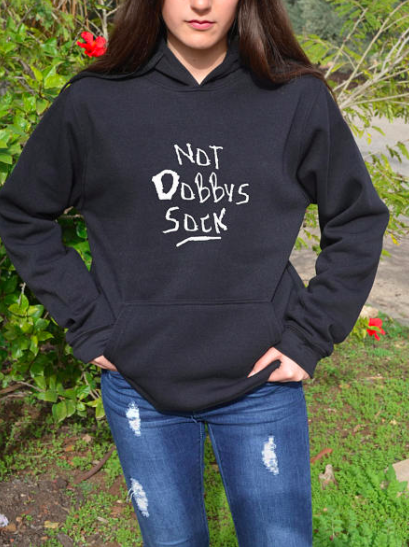 I, for one, would be honored to wear Dobby's sock.
I'll take that as a compliment, thank you.
Miscellaneous
Scar and glasses: A quintessential staple for any HP fan.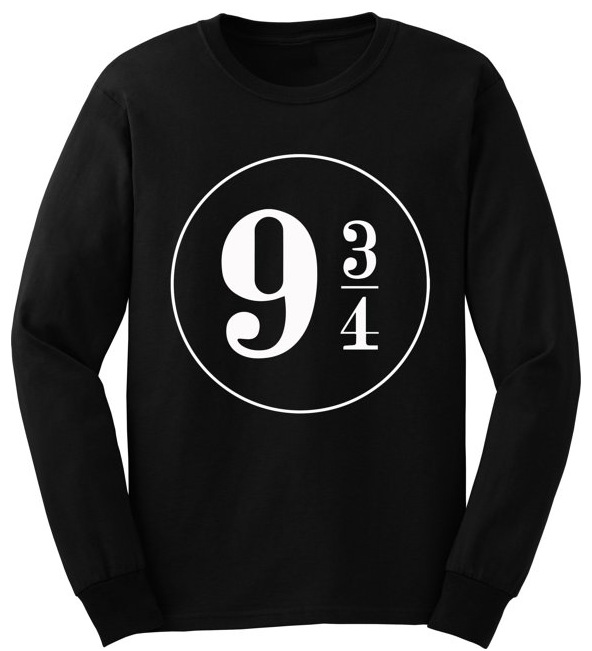 Never forget the platform for the Hogwarts Express (as if you could ever not remember…)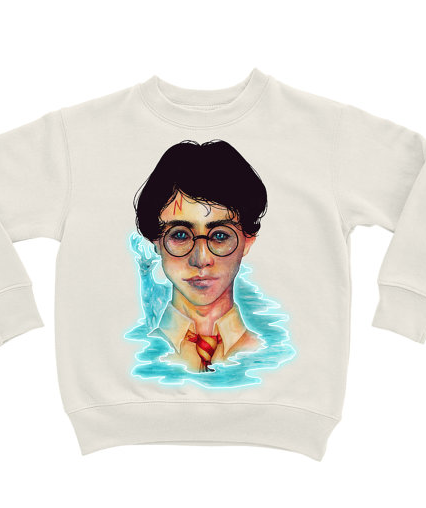 I really like the look of this watercolor sweatshirt! If you don't want Harold's face on your chest…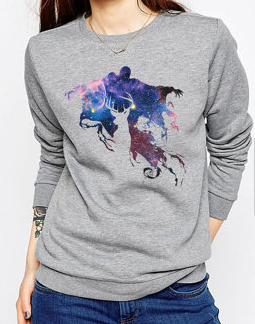 …maybe this awesome dementor/patronus one is more to your liking.
Support your favorite Marauders.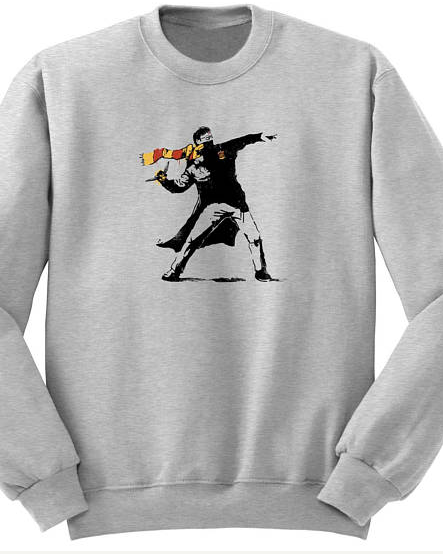 Cool, Banksy-esque screenprint sweatshirt
Just for fun…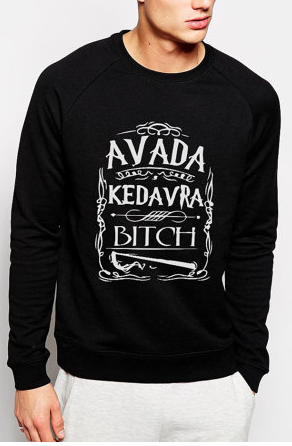 Ok, so you probably can't wear this in public, but I need this sweatshirt in my life.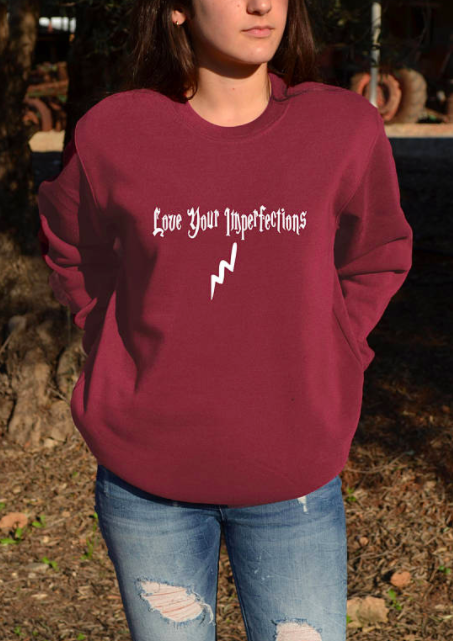 As if representing the Boy Who Lived wasn't inspirational enough, you can encourage others with this Harry Potter sweatshirt with an uplifting message (also available in multiple colors).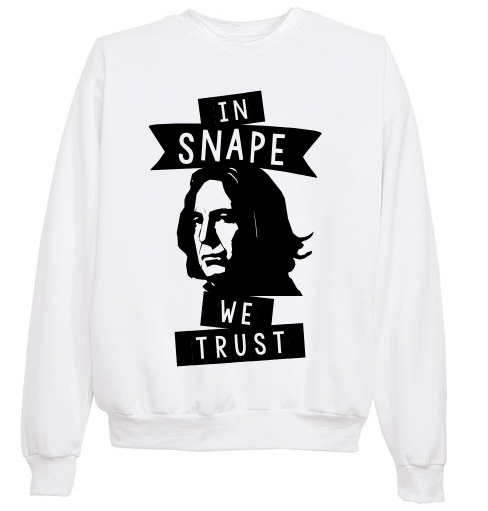 "After all this time?"
"Always."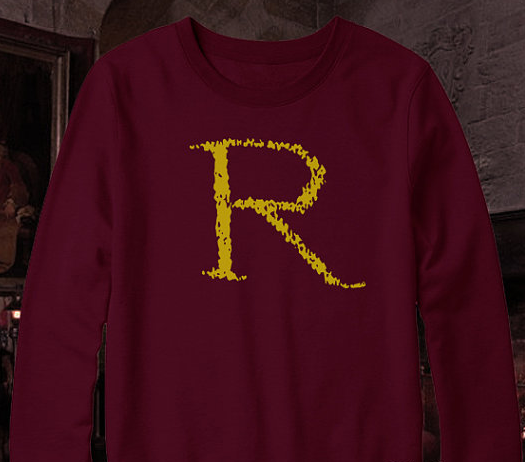 Own Ron's Weasley Sweater, hand-stitched by Molly.
Need an ugly holiday sweater? Now you can represent your Ilvermorny House with "pride." Because, clearly, Hogwarts > Ilvermorny: Horned Serpent | Wampus | Pukwudgie | Thunderbird
Or if you are a fan of Ilvermorny, here's your alumni swag.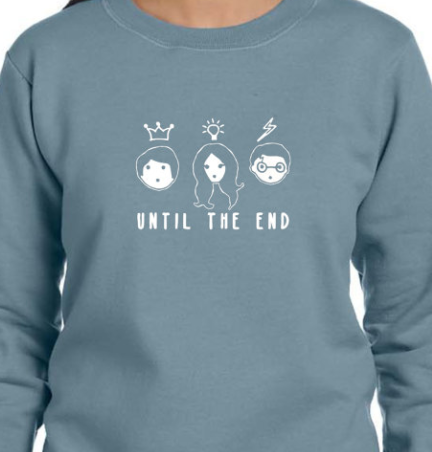 #SQUADGOALS, for real. Support the original OT3, or…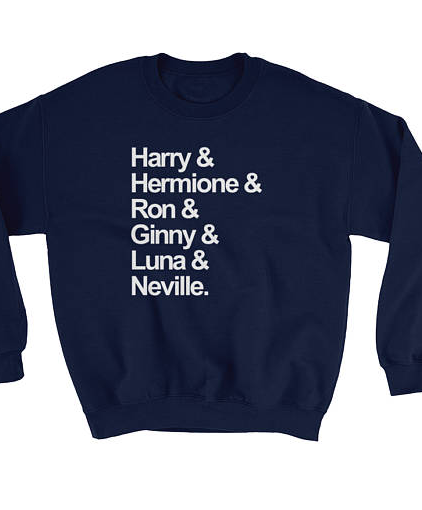 …represent the entire gang.
Now you can prepare for the annual Three Broomsticks Pub Crawl accordingly.
Support your local Death Eater.
If Voldie had a high-end fashion line, I imagine it'd look like this.
Do you have any Harry Potter sweatshirts that you absolutely love? 
Save
Save