27 Bookish Goods For Cat Lovers
If you fall in the overlapping centers of the Venn Diagram of "book lovers" and "cat lovers," then this will be the purrfect (heh) round-up of 27 fun fetish items for your life.
Cat book coffee pin, $12.
Literary cat woven blanket/rug, $79 and up.
Rudyard Kipling cat earrings, $22.
Queen of Hearts cat feltie, $36.
Literary cats messenger bag, $50.
King cat on books tank top, $24.
Books + Cats mug, $16 and up.
Read 'em and weep tote, $24 (cat not included)
Red cat notebook, $18.
Black cat print, $25.
Book cat enamel pin, $10.
Cats and books tote, $19.90.
Books & cats & coffee tank, $19.
Book cat print, $9.99.
Cozy man in a tea bath with a cat and books, $22.
Book folding pattern for a cat taking a bath, $3.78.
Ex Libris black cat postcard, $2.
Slouchy cat sweatshirt, $25 and up.
Pair of cat and book temporary tattoos, $6.
Magnetic cat bookmark, $3.85.
Metal black cat book ends, $64.
Reading cat enamel pin, $9.62.
Magnetic cat bookmarks set, $3.95.
Cat book stamp, $6.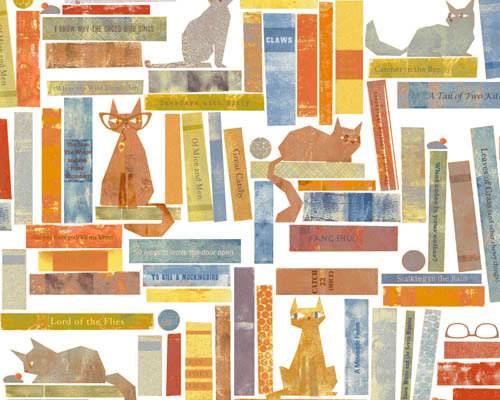 Cat and book fabric, $2.94 and up.
Screen printed cat and book dress (plus size!), $37.
So many books cat necklace, $9.95.