For Those Broke Days: 10 Bookish Items Under 5 Bucks
It's hard, scrolling though the internet during that last week of the month, when you can only sigh at pretty things. I'll be honest, it's also been very difficult to shop for friends whose birthdays are in the first few days of a month. How do you expect me to send you nice things, when my bank balance is squinting at me!
I did a little digging so that you don't have to, and found us all some cute bookish items available for under 5 bucks!
1. Let's start with bookish jewelry, which is undoubtedly the best jewelry. These adorable book charms for reader friends (or let's be honest, yourself) will put you back by just $2.78.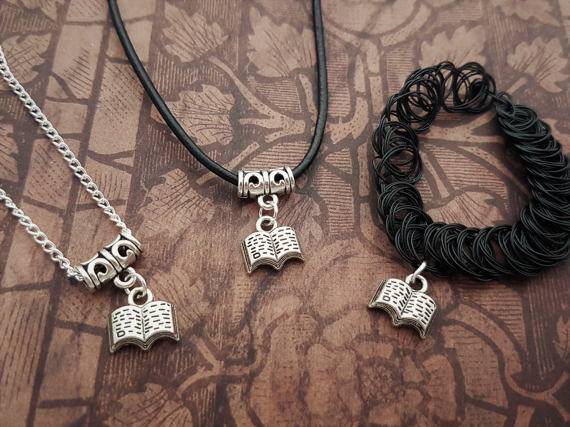 2. You've bought the jewelry, so now we can move on to this typewriter pouch for it, which is masquerading as a "gift bag," $1 for a 4 x 6 inch bag!
3. If you, like me, are extremely bad at recording your reading life, pretty stationery helps! These printable reading logs can be downloaded for $3.97.
4. These magnetic bookmarks are pretty and useful, for just $2.
5. Yes, this is probably not much of a gift, but something you can indulge in for yourself. Some nerdy microfiber cloth for your nerdy glasses, for a round $5.
6. This very vintage-y To Do list notepad, to keep track of all your bookish tasks, is available for $4.52.
7. This sticker is a gem of a find! Good prose, always to be preferred over bros, for  $2.78.
8. For your writer friends, stationery with motivational quotes is always wonderful! You fail only if you stop writing, for $3.58.
9. I do not kid you when I say that for under 5 bucks, you can get both of these bookish pins: to show off both sides of your readerly life.
10. Just a little bit of cheating my under-5-bucks rule here, for these pretty bookish prints for your reading rooms, at $5.75 each.
Get at 'em, my bookish friends, and beat the end-of-the-month blues.