How to Visit Platform Nine And Three Quarters
When you read a lot of children's books, and then accidentally on purpose study it at University, you develop a lot of niche skills. I can spot a Shirley Hughes at fifteen hundred paces, talk to you for three weeks about the greatness of Judith Kerr, and know a lot about Platform Nine and Three-Quarters. Here's everything you ever wanted to know about visiting Platform Nine and Three-Quarters. Make sure you've got your ticket!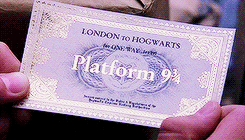 Did you know that JK Rowling was actually thinking about the nearby Euston Station when she originally wrote the scene? You can slide in a quick visit to Euston when you visit King's Cross, and you can do this whenever the stations are open. The visit to Euston is really just for purists, as King's Cross offers the full experience. You can get your photo taken with the trolley and a very confused looking Hedwig (with a substantial amount of people watching as you do so!).
It's all set-up on the main concourse, but it wasn't always there. Back when Harry Potter and the Philosopher's Stone was first released, a plaque and trolley was installed near platform nine. During the renovation of King's Cross, Platform 9 3/4 moved around the station, even popping outside for a while, before finally being integrated into the main concourse of the station. It's now inside on a permanent basis alongside a souvenir shop. There's no charge to get your photo taken but you can purchase official photographs.

(I appreciate these aren't Platform 9 3/4 specific locations, but they are Platform Adjacent, so they're going in).
Cast your mind back about three hundred years, and remember when you watched the first Harry Potter film? The station doubling for Hogsmeade was Goathland Station in North Yorkshire, UK – you can see the distinctive bridge in the above gif. You can still get to Goathland by steam train. Simply take the North Yorkshire Moors Railway from Pickering, and make sure you call in at Cropton Forest on your way home – it doubled for the Forbidden Forest.
Following an expansion in 2015, the WB Studio Tour in London unveiled an impressive replica of Platform 9 3/4. You can walk along the platform and see the original steam train, whilst soaking in the full immersive experience. The studio is located just outside of London itself, and accessible by public transport with shuttle buses running from the nearest station (Watford Junction). There's further information on that here.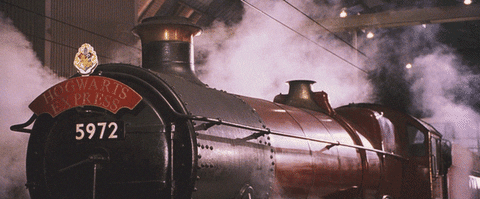 Connecting Diagon Alley (in Universal Studios Florida) to Hogsmeade (in Universal's Islands of Adventure), the Hogwarts Express allows you to travel between two theme parks. Or, in other words, you can actually set off from Platform 9 3/4 and end up in Hogsmeade and stuff your face with chocolate frogs on the way. Cool right? I'm yet to try it out in person (and I am so here for freebie holidays) but it looks amazing. Yes I have watched quite a few videos on Youtube about it.
I'm putting these two together as they are quite literally located next to each other. York Station features in Harry Potter and the Sorceror's Stone – specifically when Harry and Hagrid are walking across the bridge.
Once you've finished re-enacting the scene, continue over the bridge toward the National Railway Museum. There's clear signage so you won't get lost (here's a map just in case) and it's free entry into the museum itself. The connection to Platform 9 3/4 is pretty hidden within the museum itself, but it's worthwhile hunting out. You have to walk to the back of the 'North Shed' and look for the big metal sign hung up above you. Make sure you turn around as you might have your back to it.

Wanting more Harry Potter sites to visit? Check out this Rioter's Potter-themed tour of the UK.