Inbox/Outbox: Bonus Monday Edition!
Editor's note: since we took the week of Christmas off, we have a bonus edition of Inbox/Outbox for you! Enjoy.
I really like Christmas and books are, obviously, one of the reasons why. There's always the hope of a book under the Christmas tree, and let me be honest, I have the best excuse to gift myself books during this time of the year, and it's an excuse I am always sure not to miss.
That said, this holiday season was really good in terms of books acquired and books finished, especially for audiobooks. Nothing can make chores sound appealing, but listening to an audiobook while doing chores makes it all more bearable.
INBOX (BOOKS ACQUIRED)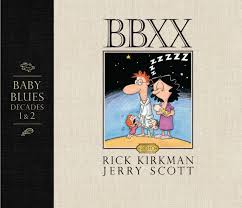 I've known these comics since I was a teenager. I found them at my local library along with Calvin And Hobbes and, although I don't have kids, I find them hilarious, so I decided to buy the whole collection to add to my shelf.
It tells the story of a young married couple and how their lives change since they have their first child, while taking us through all the frustrations, doubts, and fun which parenthood can bring.
Peluda by Melissa Lozada-Oliva
I love Button Poetry, and this was a very good year for slam poetry books, so I decided to start building up a collection.
As a Christmas gift from myself, I got Peluda (Hairy), whose poems describe the life of a Latina in America, and talk about family, immigration, and femininity.
Another poet from Button Poetry, Still Can't Do My Daughter's Hair reflects about fatherhood, and what it is like to be a family man, a black man, in America.
It's certainly worth looking out for Button Poetry videos on social media.
OUTBOX (BOOKS FINISHED)
I like psychology and I am always interested in good stories. This was a very interesting read, mainly because it not only explains the traits of sociopaths around us—so that we can recognise them and kick them out of our lives—it also compiles a few real stories, which I loved to listen to.
I've been on the lookout for this audiobook for months and I finally got it.
Anna's videos are relatable and funny, her life story is full of failures and successes, and I can only point out that the book was too short. Apart from that, it was a wonderful read.
I loved Milk And Honey, so I had to get my hands on this book and I was not disappointed.
Rupi Kaur's poems may sound a bit obvious at times, but they also feel like a punch in the gut more often than not, and that's what I demand from poetry: for it to make me feel.
Her books speak to me, I feel that they are even empathetic to the things I have been through as well, and it was one the most beautiful things I've read this year.
I had already read Why Not Me? and enjoyed it very much, so I figured I'd read this one too and it turned out to be a wise decision.
Mindy has such a candid and funny way of talking about her job and her life, that you really get enthralled in her stories. It was a joyful read.
IN THE QUEUE (WHAT I'M READING NEXT)
Artemisia Gentileschi's life intrigues me, because she was so so brave and honest in her art, in a time when art was mostly a man's world.
This book is a novelisation of her life, and apparently quite an accurate one, so I am looking forward to reading it.
Of course, I have many more books on my TBR pile, but I still haven't decided what I am going to read after finishing this last book.
How about you? Which books did you acquire and finished, and which are you looking forward to reading next? Let us know in the comments below and I wish you a 2018 filled with happy readings!