Inbox/Outbox: June 16, 2017
Before June started I decided I was going to read ten books this month so I would actually get back on track with my Goodreads challenge. This now feels like a really funny joke because I've only managed to finish one book so far and that only happened this week. But my TBR is neverending and working at a bookstore makes it extra easy to pick up new books each week.
Inbox (Books Acquired)
Dating You, Hating You by Christina Lauren
People who hate one another but also like kissing one another is my kryptonite so I'm all about this one. Carter and Evie are Hollywood agents (who are, obviously, super attracted to each other) whose romance gets a hitch thrown into it when their companies merge and they have to compete for the same job. This will be my first Christina Lauren book, but I've heard good things, and the plot is similar to The Hating Game (which I loved) so I'm excited to get into it.
Saints and Misfits by S.K. Ali
When I first came across this book, I had no idea what it was about, but the cover is so cool I knew I'd read it anyway.). It's YA contemporary about Janna Yusef, a Muslim teenager into Flannery O'Connor, photography, and graphic novels. Though she may not have cared much what people thought of her before, a crush on a boy named Jeremy now has her wondering. But she also has to contend with Farooq, whose pious image contradicts the monster Janna knows.
Outbox (Books Finished)
The Girl Who Drank the Moon by Kelly Barnhill
After this one won a Newberry, I was determined to move it up on my TBR, but it was only a few hours left by myself in the kids department at work that I actually had some time to read it. And then I zipped right through it. It's my kind of magical, the kind that imbues every page and seeps from every sentence, and there are so, so many incredible women in this book (along with the incredible Luna, aka the Girl Who Drank the Moon) that it was an immediate favorite.
In the Queue (What I'm Reading Next)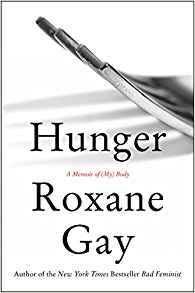 Hunger: A Memoir of (My) Body by Roxane Gay
I've been hearing about this book everywhere, and with so many people having read it already, I feel like I'm the last person on earth to get (even though it only came out this week). I'm about halfway through, and it's already made me cry. Roxane Gay is, as usual, very good at opening up on the page and sharing with us visceral and personal stories that really aren't our business but we're still really lucky to read.
Every Body Yoga: Let Go of Fear. Get on the Mat. Love Your Body by Jessamyn Stanley
I'm probably not going to start doing yoga anytime soon (it's hard enough for me to keep up with my pilates regimen), but I read a few of the opening chapters of this one, and it's already struck me as so much more than a typical "exercise book". While I won't necessarily be doing a ton of yoga poses for the foreseeable future, I'm at least going to enjoy reading about Stanley's yoga journey which is both funny and encouraging. And who knows? I might start doing yoga.
A Court of Wings and Ruin by Sarah J. Maas
I've been experiencing some Mass fatigue lately, and though I'm not a huge completionist, I'm pushing through this last book in The Court of Thorns and Roses trilogy. This one picks up after Feyre's been taken against her will by former lover Tamsin. With the threat of war looming over Prythian, Feyre pretends to be in love with Tamsin once again if it means saving her world.
What are you reading this week?